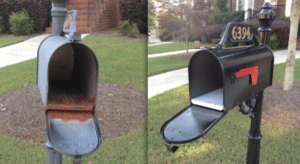 Mailbox Project has proudly served Georgia for more than 25 years! We offer a variety of services to homeowners, property managers and HOAs including restoration and repair of mailboxes, street signs, dog waste stations, outdoor trash cans, monuments, cluster box units, community reader boards and more.
We carry a full line of new products as well, and both direct shipment and professional installation are available. We also offer pressure washing of curbs and driveways and exterior painting of hand railings, privacy fencing, clubhouses, etc.
Please click button below to submit your request for us to provide you with an estimate!
By providing your phone number, you agree to receive text messages (SMS). Message and data rates may apply. Message frequency varies.